Deposit guarantee in Finland
Deposits are protected by a statutory deposit guarantee scheme, which is maintained in Finland by the Financial Stability Authority. Deposit guarantee protects depositors' assets in the event that a deposit bank becomes permanently insolvent.
Compensation for guaranteed deposits amounts to a maximum of EUR 100,000 of a depositor's deposits in one bank.
How does the deposit guarantee scheme work?
If a Finnish deposit bank is declared bankrupt or is in permanent default, the Financial Stability Authority pays compensation to the bank's depositors from the Deposit Guarantee Fund. Deposit guarantee compensation is paid within seven working days of the authorities ruling that the bank is insolvent and the Financial Stability Authority issuing a decision on compensation for deposits. Depositors do not need to apply for compensation separately.
How is deposit guarantee compensation paid?
Compensation for guaranteed deposits amounts to a maximum of EUR 100,000 of a depositor's deposits in one bank. From the perspective of deposit guarantees, the OP Group, the POP Bank Group and the Savings Banks Group are each considered to be one bank. This is due to the fact that the banks belonging to these groups are fully or partially liable for each other's commitments and obligations within the group.
A list of the banks covered by the deposit guarantee scheme
The deposit guarantee scheme covers all deposits by private persons as well as most deposits by companies, associations and foundations.
More information on what deposits are guaranteed
The Financial Stability Authority maintains the Deposit Guarantee Fund from which compensation is paid. The fund's assets are collected from deposit banks.
More information on the Deposit Guarantee Fund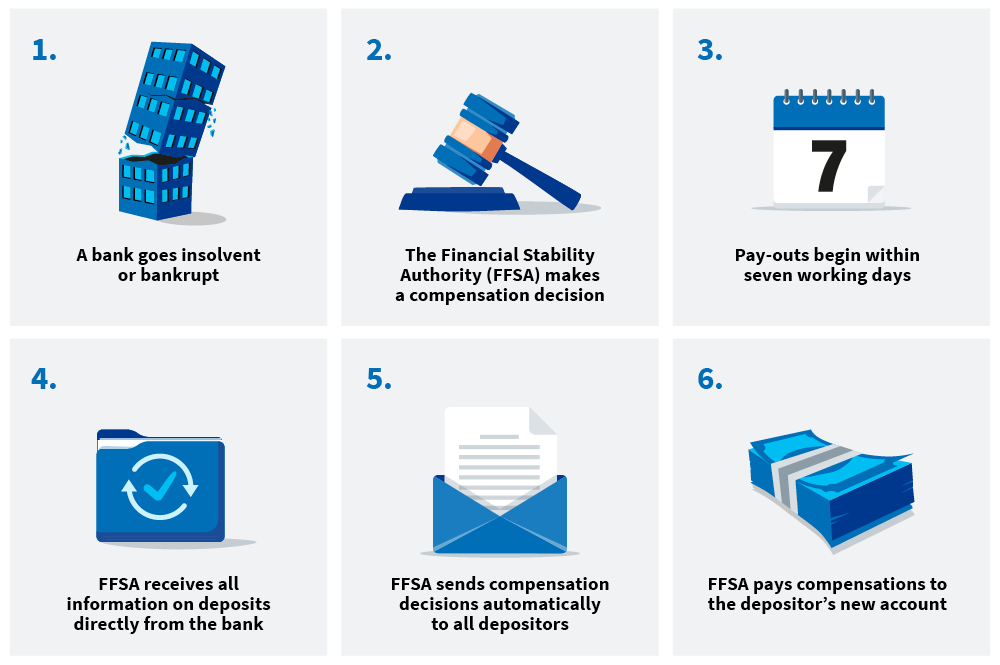 Chart: This is how deposit protection works in Finland
Deposit guarantees have been harmonised in the European Union
The deposit guarantee schemes of EU Member States have been harmonised. Deposit guarantees are governed by the EU Deposit Guarantee Scheme Directive, which includes harmonised provisions concerning rapid payment, depositors and deposits to be protected as well as the maximum compensation amount of EUR 100,000.
The Deposit Guarantee Scheme Directive and the national legislation to implement the Directive ensure that deposits with deposit banks are always covered by some deposit guarantee scheme in the EU. As a rule, the authority responsible for deposit guarantees is the deposit guarantee scheme of the bank's home country.