Careers at the Financial Stability Authority
"Working at the Financial Stability Authority gives you a front-row seat to how the banking union operates."
We are an independent State agency. Our mission is to protect depositors and taxpayers from the effects and expenses of financial crises as well as prevent financial crises and promote bail-in. We are also responsible for the deposit guarantee scheme in Finland. We offer our employees expert tasks of social significance. Our agency gives our employees a front-row seat to the operations of the second pillar of the banking union, which is the Single Resolution Mechanism that entered into force in 2015. 
In addition to the Director General, we employ 26 experts in various public administration tasks. Women account for slightly over half of our personnel. Most of our experts have completed a master's degree. The most common educational backgrounds are business and economics, law and social sciences.
We carry out challenging and diverse expert duties. The varying tasks include resolution planning and analysis under the Authority's area of responsibility, the development of the deposit guarantee system, diverse international cooperation and advocacy work.
International activities as part of the European cooperation network are an important aspect of our work. They are reflected in cooperation with the Single Resolution Board (SRB) through its Plenary Sessions, committees and working groups as well as the internal resolution teams established by the SRB to prepare matters pertaining to individual institutions. We are also actively involved in the working groups and committees of the European Banking Authority (EBA). 
More information on our international operations.
In addition to international cooperation, we work closely together with various parties in Finland, such as the Financial Supervisory Authority, the Bank of Finland and the Ministry of Finance as well as the banks, investment firms and the central securities depository within our purview.
We actively develop our operations and invest in the competence and well-being of our personnel. We provide training for our personnel and organise internal study groups on topics of interest, for example.
We are a close-knit workplace community and we support each other every day. We have shared values and we develop our operations collectively.
The negotiating authority for our administrative branch is the Ministry of Finance. The Ministry of Finance publishes the terms and conditions of employment relationships concerning the Financial Stability Authority on its website.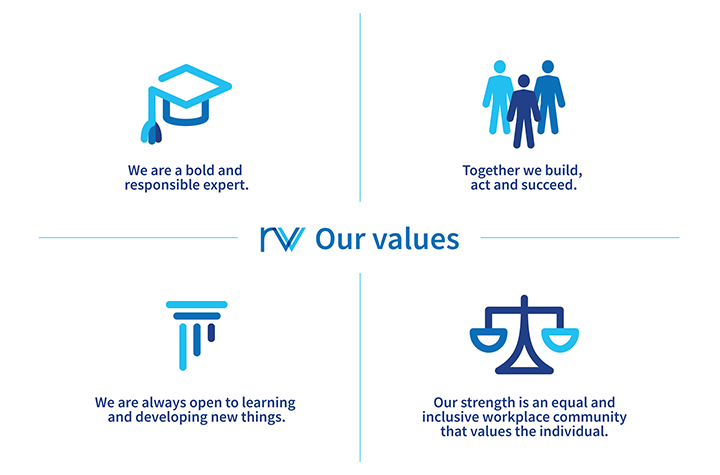 Image: FFSA our values.
Vacancies
Vacancies at the Financial Stability Authority are listed online at valtiolle.fi.